Who is Mr. Woodhead?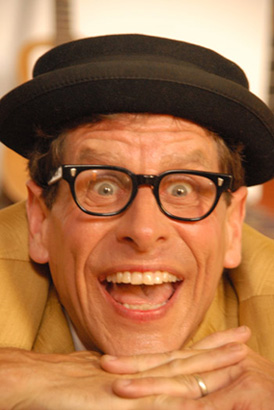 Mark "Woody" Keppel is a world-renowned vaudevillian, performing his unique brand of bumbling earnestness for appreciative audiences on 6 continents. As part of the award-winning duo Waldo & Woodhead, which he co-founded in 1984, he has performed in front of live audiences great and small all over the planet, and on national television and broadcast via satellite internationally from Chile, Argentina, Japan, Canada, Holland, Turkey, Germany, Switzerland, France and the U.S.
With stage partner Waldo, Woody has appeared at several World Expos, the Summer Olympics in Barcelona, Spain, The International Children's Festival in Hong Kong, at Tanglewood, in Lenox, MA, and at Lincoln Center in New York City.
He has had supporting roles in 6 feature films as a character actor, ranging from a hard-nosed investigator to a deranged explosives expert, including; the part of Walter in David Giancola's Pressure Point, the role of Beck in Edgewood Production's Icebreaker, and Detective King in Moving Targets. Woody plays a country sheriff opposite Billy Ray Cyrus in a release called Radical Jack, and had a supporting role to Timothy Bottoms, as Norman, in the Patrick Dempsey directed, Ava's Magical Adventure.
In September, 1994, Mr. Keppel wrote, produced, and directed Vaudeville In My Blood, which made its world premier at The Flynn Theater in Burlington, Vermont, and featured a cast of fourteen physical comedians, dancers, and musicians. In 1995 Mr. Keppel co-founded It's A Fine Mess! Productions, a film, video, and special events production company.
Formally trained in classical music, television production, and mass communications, Mr. Keppel composes music for adults and children, for the stage, theater and films. He has written and starred in three children's videos, his most recent, Woodhead Saves the Farm, was recognized by Sesame Street and Parent's Magazines as "Year's Best' Children's Video". His latest musical release is Mr. Woodhead's Party in the Animal Barn. He wrote, produced, directed, and performed thirty episodes of his children's radio program, Ask Me Anything in Philadelphia, PA., and performed for four seasons with The Opera Company of Boston.
Stage
Mr. Woodhead's Vaudeville Review is a scalable, eccentrically funning variety show, combining music, slapstick, and hysterical antics suitable for all audiences. In addition to providing the comic entertainment at festivals, community and private events large and small, Mr. Woodhead is available to M.C. your special occasion, and can custom-create music for your company or event.
Contact Information:
For inquiries about music or vaudeville performances, please contact us.
Street Address:
322 Oak Hill Road
Charlotte, VT 055445
Email: info@mrwoodhead.com
Phone: 800-FOOLERY (800-366-5379)